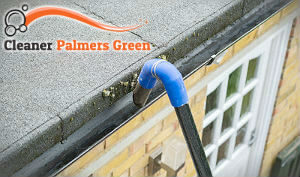 Keeping the gutter system in every property is important as this way the rainwater will be taken out of the property and doesn't create leaks and damages. You can use the gutter cleaning services provided by our company which operates in Palmers Green to ensure the effective functioning of your drainage.
Our operatives are supplied with the latest and most effective machines and tools which ensure fast and professional cleaning and unblocking of downpipes and gutters. Use our services at least once or several times in the year to maintain the guttering in your estate in excellent condition.
Effective Gutter Cleaning Palmers Green
The gutter cleaning which we provide is conducted with special equipment designated for this purpose. These are:
Telescopic poles made of carbon fibre which can reach to 12 meters from the ground
Tiny CCTV cameras that are used to supervise the process and taking picture
Special dry and wet vacuum cleaning machines
Ladders used whenever possible
Our staff of cleaners are supplied with this equipment and use it whenever they unclog and clean gutters, fascias and downpipes. They attach the telescopic pole to the vacuum cleaning machines and tiny camera. The cleaning is undertaken from the ground this way it is safe and effective.
" I really enjoyed your gutter cleaning service, I did not expect to receive such highly professional service, considering the inexpensive price that I paid but I enjoyed it quite a lot. The team that came had a great professional equipment and I was very interested in watching them work. -Fin"
Reliable Gutter Cleaners in N13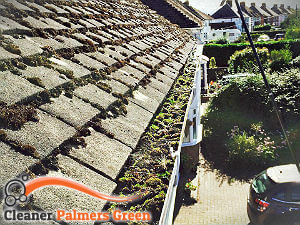 The camera lets the operatives observe the whole process as well as take pictures to show the owner.
We carry out hoovering and unclogging of gutter components which get filled with leaves, grass, moss, growth and wastes. This obstructs the free flow of rainwater from the pipes and gutters that can lead to a number of unpleasant consequences and property damages.
Get in touch with us to book the gutter cleaning we offer in Palmers Green, N13 and the results will exceed your expectations. We work during all days of the week, on bank holidays and weekends too without any increase of the price of the service.
Our company specialises in professional clearance of gutter systems which is necessary to be provided for every estate. This should be done at least annually as blockages in the downpipes and gutters can create leaks, overflowing of rain water and damages to the foundations and walls of the property.
Our gutter cleaning services are at your disposal in N13 during weekdays and weekends. Use our customer centre to schedule the cleaning and receive a free an no-obligation quotation which will be sent for approval and put into practice whenever you require.